About S3 Fitness
S3 Fitness is the only official TRX® Qualified and Licenced Training Centre in the North West and the whole of Wales. S3 Fitness is here to provide you with Safe, Effective and Functional TRX® Suspension Training®, Rip™ Training and Kettlebell Training Sessions with proven results.
Each Instructor is Fully Qualified, Fully Insured, Trained in First Aid and is constantly learning! You will have this Professional coaching you EVERY Session, EVERY Exercise.
S3 Fitness currently runs TRX® Courses to train instructors up to our standards!
We are the place where the trainers train!
Ben Fildes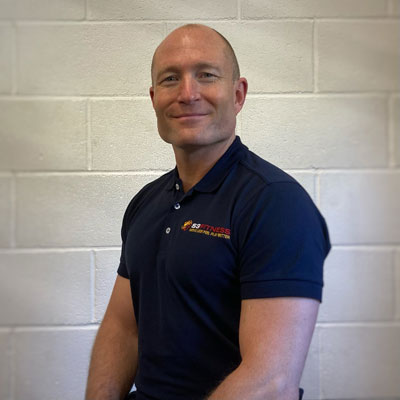 I have been involved in fitness training in one form or another for many years.
When it comes to fitness I like to keep things varied, interesting and more importantly, fun! I believe in practicing what I preach. That's where TRX® Training comes in. I have used these pieces of kit for years and now you can too. Because you use your own body weight you can make it as hard or as easy as you like. Not sure if it really is for you? Then get in contact and ask about a free introduction.
I love working with people and helping them with various aspects of their fitness and health. Such as:
Losing fat
Getting back into fitness
Rehab after and injury or illness
Helping them with their food and nutrition choices
Helping them achieve more in a safe and fun way
Increasing their speed and performance for their chosen sport or activity
Sarah Pearson
A little bit about me, I have a Bachelor of Science degree in Sport and Exercise Science, I'm a TRX and Trigger Point Qualified Instructor as well as being a CYQ Level 2 Gym Instructor.
I have trekked across the hills of the Lake District completing my Gold Duke of Edinburgh, cycled across North India for charity and jumped into freezing waters during Tough Mudder 2015. I am a competitive powerlifter and have the ambition to one day hold a record. I have achieved Chester's Strongest Woman in 2015.
I have a positive outlook on life and believe exercise is the key to a happy and healthy lifestyle. The ability to move is only appreciated once you can't, so be active every day.
The one saying I love to hear as a coach at S3 Fitness is "That was a tough workout but I really enjoyed it."
Want to join the S3 Fitness team?
We're always looking for potential new coaches - download our TRX® Coach job description and if you're interested, please drop us an email with your CV to info@s3fitness.co.uk
How to get started